India is home to nearly half a billion children, many of whom live in extreme poverty. The Indian Government has not been able to find a way to educate these children, who spend their days begging, stealing and selling their bodies just to survive.
Inderjit Khurana, a teacher in Bhubaneswar (a town 300 miles south of Calcutta), noticed that the children of the slums spent their days begging on train platforms rather than going to school. So she decided that if the children couldn't come to school, she'd bring the school to them.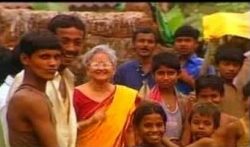 In response to the growing and seemingly insurmountable challenges faced by these children Inderjit Khurana, an experienced educator and director of her own successful school, founded the Ruchika Social Service Organization in 1985.
Initially it comprised of a single "platform school" but has now grown to 12 schools with a host of other welfare programs and is presently reaching out to over 4,000 underprivileged children and their families. With teachers to guide and care for them, the children are helped to develop hope for their future.
Because the government refused to help her, Inderjit Khurana had to rely on charitable donations to raise the meager $12,000 a year that funds all 12 schools that now operate.
RSSO maintains that every child has the right to education. Through a diverse assortment of various educational innovations, RSSO has dedicated itself to the ideal that… If the child cannot come to the school, then the school must come to the child.
————-
They need a better tomorrow… click here to see why
"The Train Platform Schools of India"
This documentary film was aired by PBS as part of their Television Series
"The New Heroes"
Click here to watch the Video Documentary
Length: 18:00 min.
The series is hosted & narrated by Robert Redford, and tells the inspiring story of men and women with a passion for transforming our society, working to overcome the challenges of poverty, illness, abuse, violence and the ignorance they see in the world around them.