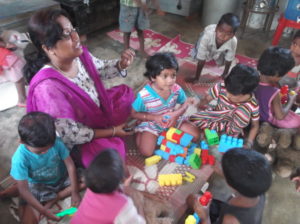 The program aims to develop a safe and healthy environment for slum children through early childhood care and education.
Ten such ECCE Centers (Balwadi in local language) are running in slums of Bhubaneswar to provide preschool education to the children between 1-6 years old and to prepare them to be enrolled in formal schools at the right age.
They are given supplementary nutrition to reduce malnutrition. Different competitions such as rhymes, drawing, and dance are being organized to develop the hidden talents of the children. This year 263 children enrolled in our 10 Balwadi/ ECCE Centers. Total 113 children enrolled in formal schools.
Each Balwadi has a "Mothers Club" and a "Basti Education and Sanitation Committee" to look after the monitoring and supervision of the Centers. Mothers meetings were organized every month in each slum to discuss about the progress of the child, problems if any with the child and discussion regarding topics on safe drinking water, hand wash before defecation and after meal, personal hygiene and proper immunization of the child, water-borne diseases, solid and liquid waste management, weaning food and how to make environment safe and healthy for children.
The Basti Education & Sanitation Committee met quarterly to discuss about management, maintenance, monitoring and supervision of the Center.