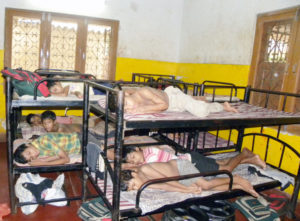 Children in need of care & protection, living on the streets, working in vulnerable occupations, orphaned, deserted, trafficked, run away from home are rescued by the outreach workers of RSSO and given shelter in the Open Shelter Homes – separate Shelter homes for boys (ASRA) and for girls (SRADHA).
They are counseled and provided with food, clothes, medical treatment, bridge course education, training and outdoor visit till they are restored/ rehabilitated.
With the order of Child Welfare Committee, their families are traced and they are restored to their parents and others are placed in transit homes/ permanent shelter homes.