To reduce the vulnerability of the street adolescent children of Bhubaneswar to STI and HIV/ AIDS by providing appropriate education and service, Ruchika started the "Operation Healthy Platform" project.
Its main objectives were to sensitize the community (street adolescents, their parents, youth, women and community leaders) on the sexual health issues and health rights to bring about a supportive environment for street adolescent children. And to build the capacity of the project staff as well as of other organizational staff in managing sexual health projects and other organizational issues efficiently.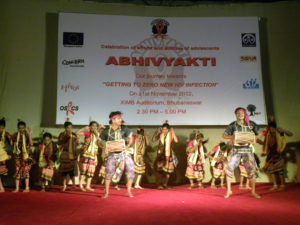 In the project the organization worked with different communities. They are sensitized on the sexual health issues and reproductive rights and the emerging health behavioral problems faced by the adolescents.
They are made aware to create an enabling environment for accessing remedial and preventive facilities, to acquaint the street adolescents with existing services, to reinforce the message and to ensure that in fact these amenities are appropriate, accessible and affordable.
The community is sensitized through a variety of meetings and personal contacts using different methods such as posters, leaflets, sticker and folk media like, puppet show etc. The community is also sensitized through discussions to take up equality issues and prepare for any emergencies.